Importing an ERwin File
You can import content of ERwin to eXERD by using [Import ERwin XML File].
Select [File > Save As].
Select XML at [Save as type].
Select [AllFusion Repository Format] at XML saving option.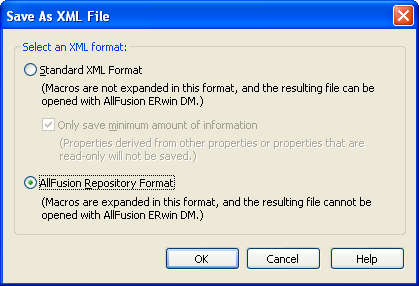 Right-click the folder that situates files converted to eXERD.
Select [Import].
Select [ERwin] eXERD items.
Choose the ERwin XML file to import,
After setting domain processing method, click [Finish].
Converted eXERD file is generated and the editor opens automatically.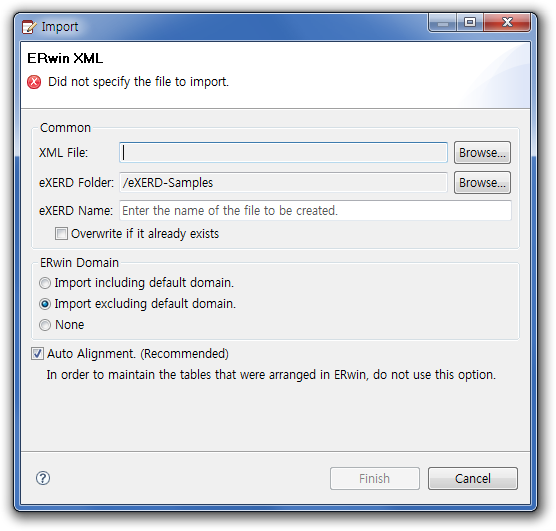 Domain Method
| Method | Description |
| --- | --- |
| To import including basic domain | To import including domains which ERwin treats as basic properties. |
| To import except basic domain | To import domains that user writes. |
| Not to import ERwin domain | Not to import domain written in ERwin. All the information of the domain is copied to column. |
In case of checking "Auto Alignment", tables are optimally in eXERD.
Supporting ERwin XML File Version:
Supporting Database
Oracle: 9, 10, 11
MS-SQL: 2005 or later
DB2: UDB 8, 9
MySQL: 5.X
Supporting ERwin Properties
Domain
Display
Logical name/ physical name/ data type/ nullable or not/ annotation
Basic key/ unique index/ non-unique index/ foreign key
Rectangle memo
Relationship
ERwin file to import should be a file written in logical/physical mode or in physical mode.
ERwin file to import should be imported to XML with all the included information.